What Should I Include in My Living Will?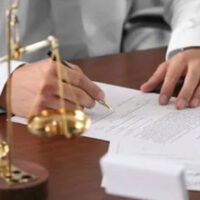 Many people confuse living wills with wills, but the two are very different. A will dictates who will take guardianship of your children upon your death and divides your estate. Living wills on the other hand, include directions for your health care in the event that you become incapacitated and cannot make those decisions on your own. Living wills also differ from power of attorney because you make the final decisions about your health care, not another person. So, what should you include in your living will?
Life-Sustaining Measures
One of the most important things to include in your living will is the extent you want healthcare professionals to go to when sustaining your life. Do you want all measures to be exhausted when healthcare professionals are trying to keep you alive? Or do you object to being fed through a tube, being given antibiotics or a ventilator? Do you want healthcare professionals to use CPR, or do you want to include a "Do Not Resuscitate' in your living will? All of these are important considerations that should be made clear in your living will.
Palliative Care
In some cases, doctors and healthcare professionals may choose to keep you comfortable even if they can't treat the condition that has caused you to become incapacitated. A lot of palliative care focuses on giving you pain medication but not everyone wants this, particularly if it's going to worsen your condition. Regardless of whether you want palliative care or not, you should include this in your living will.
Organ Failure
Even when an important organ fails, healthcare professionals can often keep a person alive for a very long time. For example, a person can be kept on life support even when they are technically brain dead. For this reason, many people choose to continue life-sustaining measures until one of their major organs fails. If this is a choice you'd also like to make, include this in your living will, as well.
Your Remains
A living will can also state what you want to happen with your remains should you pass away. Some people want to donate their organs, while other living wills specify whether a person wants to be buried or cremated. Others want to donate their body to medical research. If you would like your remains to be dealt with a certain way, it's important to include this in your living will. Many people include these directions in their will, but the will is usually read long after the funeral and burial have taken place.
A Pennsylvania Estate Planning Attorney can Further Advise on Your Living Will
Just like when creating a will, there is no requirement that you speak to a Scranton estate planning, probate & trust administration attorney before creating your living will. However, an attorney will ensure everything that's important to you is included in your living will and that it is enforceable. If you need help with any part of estate planning, call our attorneys at Haggerty, Hinton & Cosgrove, LLP at 570-344-9845. We can help you plan today to give you peace of mind about tomorrow.
Resource:
legis.state.pa.us/WU01/LI/LI/CT/HTM/20/00.056..HTM
https://www.haggertylaw.net/the-dos-and-donts-of-estate-planning/