Do Trackers Help or Hurt Workers?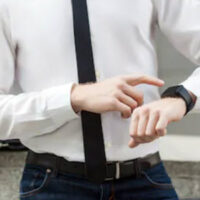 There's a new trend developing in Pennsylvania and around the country. That trend is using trackers to track the movements of workers while they are on the job. The concept behind this practice is that trackers can identify when workers are engaging in unsafe practices, and help employers realize when employees need further training on how to remain safe. People are starting to ask big questions about whether or not these trackers are actually fair, though. After all, when a person's every move is tracked, don't they lose some of their privacy?
What are Ergonomic Trackers?
The ergonomic trackers being used by more and more employers are manufactured by StrongArm Technologies Inc. The trackers they manufacturer are known as StrongArm devices. The trackers are being used by many corporations across the country, including Walmart Inc.
The trackers are designed to be worn on a worker. When an employee acts in an unsafe manner while wearing the device, such as overexerting themselves, the tracker vibrates. This is a reminder to the worker that they are in a dangerous position and could become hurt. However, it's not only employees that receive this information. The data is also sent to the worker's employer. It's this feature of the device that has some worried that the trackers could actually be hurting workers more than they are helping them.
How is the Data Being Used?
If the trackers were only being used as intended, there likely wouldn't be a problem. After all, alerting employers to the fact that employees are not working in a safe manner could help those same workers avoid accidents and injuries. Unfortunately, the concern is that employers may use the data in other ways, and that it is these that could have a negative impact on workers.
For example, employers and their insurance company may try to use the data to indicate that the employee repeatedly engaged in unsafe practices, so they can then deny their workers' compensation claims. Although these arguments could be fought, because workers' compensation is a no-fault system in Pennsylvania, it could mean hurt workers have to wait longer to recover the compensation they need.
Another concern is that employers may use the data to prove that employees are not being productive enough on the job, even when those claims are untrue. These claims can also be fought, but can also hold employees up in litigation for months while they lose out on income at the same time.
These devices are still new, so only time will tell whether they help workers remain safer on the job, or whether they violate their rights.
Was Your Workers' Compensation Claim Denied? Call Our Pennsylvania Workers' Compensation Attorneys
If your workers' compensation claim has been denied due to a tracker, or for any other reason, you need the help of a Scranton workers' compensation attorney. At Haggerty, Hinton & Cosgrove, LLP, we can help you with any workers' compensation issue you have, whether it's filing your claim, or filing an appeal if you've been denied. When you need to claim the compensation you're entitled to, call us today at 570-344-9845 to learn more about your legal options.
Resource:
insurancejournal.com/news/national/2019/11/06/547701.htm
https://www.haggertylaw.net/are-uber-drivers-eligible-for-workers-compensation/