What Does Age have to Do with Your SSDI?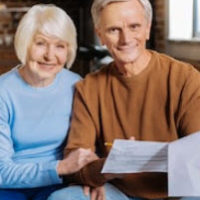 When determining if an individual is eligible for Social Security disability benefits (SSDI), the Social Security Administration considers many factors. One of these factors is age. Together, your age and residual functional capacity (RSF) make up a large part of your claim. Your RSF is the physical limits you may have when working, regardless of the limitations imposed upon you by your disability. Age and RSF go hand in hand together, as the SSA recognizes that as a person ages, they have more physical limitations.
Below are the four age groups the SSA divides applicants into when determining if they are eligible to receive SSDI benefits.
Younger Individuals
SSDI considers anyone under the age of 50 to be a younger individual. If someone is under the age of 50 and applying for SSDI benefits, they must show that they cannot perform any type of work they have done in the last 15 years. They must also prove that they can no longer perform sedentary work, or work that can be done while sitting and doesn't involve a lot of physical exertion. Additionally, applicants in this age group must also prove they cannot lift more than ten pounds.
Closely Approaching Advanced Age
The SSA considers individuals between the ages of 50 to 54 as 'closely approaching advanced age.' When SSDI applicants fall into this age group, they must show that they can only perform sedentary work. If they can prove this, the SSA will consider them disabled and allow them access to benefits.
Advanced Age
Individuals that are between the ages of 55 to 60 are considered of an advanced age by the SSA. Those in this age group must show that they cannot perform the same type of work they once did. They must also show they are limited to light work. Light work is defined as standing and walking for six hours. Light work also involves occasional lifting of up to 20 pounds. If a person between the ages of 55 to 60 can prove they can only perform light work, they are considered disabled.
Approaching Retirement Age
Individuals aged 60 to 65 are considered 'approaching retirement age' by the SSA. Applicants in this category have the lowest standards to meet to prove they are disabled. They must only show that they don't have any highly marketable skills that are transferable to another job. There must also be little, if any, vocational adjustment when transferring these highly marketable skills from one job to another.
Age is just one factor the SSA uses when determining an individual's eligibility for SSDI. However, when a person is over the age of 50, it is typically easier for them to receive SSDI.
Contact a Pennsylvania SSDI Attorney for Help With Your Claim
Although older individuals may have an easier time getting SSDI benefits, the process is still challenging. If you need to apply for SSDI, regardless of your age, don't file your application on your own. At Haggerty, Hinton & Cosgrove, we are the Scranton Social Security disability attorneys that can help. We are passionate about getting individuals the benefits they need, and we will help you from the time you fill out your application to the time you appeal a decision, if necessary. Contact us online or call us at 570-344-9845 today to start getting the benefits you need.
Resource:
ssa.gov/OP_Home/cfr20/404/404-1520.htm#g1
https://www.haggertylaw.net/the-challenge-of-collecting-ssdi-for-migraines/