The Type of Visitor You are Makes a Difference in Your Slip and Fall Case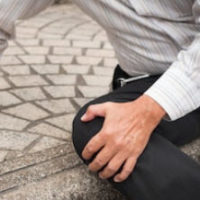 Recently, a woman filed a lawsuit against Target after slipping and falling in their store. After suffering extensive injury as a result of the accident, she is asking Target for $1.2 million in damages. That's a lot of money, but as a business, Target has the highest duty of care to their customers.
Duty of care is the concept that most personal injury cases rest on. Everyone has a duty to ensure they act in a reasonable manner that will keep others around them safe. When that duty of care is not met, someone has acted negligently and for that, they can be held liable. Duty of care is particularly important in slip and fall cases. A property owner's duty of care changes, depending on the type of visitor that's on their property. So, what are the types of visitors, and what duty are they owed?
Invitees
Property owners owe invitees the highest duty of care. An invitee is someone that is a public visitor or visiting the property for business purposes. A public visitor is someone that enters property open to the public. This includes property such as airports, museums, and churches.
Someone that is on the property for business purposes can include employees, customers, and delivery people. As long as they are conducting some sort of business on the property, a person is considered an invitee. According to premises liability law in Pennsylvania, the woman in Target would fall under this category.
Property owners must do everything they can to ensure invitees are safe on their property at all times.
Licensees
Licensees are still owed a duty of care by the property owner, but not as much as invitees. Licensees are those that enter the property with the property owner's permission, but are not there to conduct business. A friend or family member entering the property for a social visit is considered a licensee.
Property owners must warn licensees of any hazardous conditions on the property, particularly if the licensee would not discover the condition on their own.
Trespassers
A trespasser is someone that enters a property without the permission of the property owner. Generally speaking, property owners don't owe any duty of care to trespassers. They do not need to ensure the property is safe for trespassers to enter. However, property owners also cannot intentionally hurt trespassers.
Pennsylvania also follows the attractive nuisance doctrine when it comes to trespassers. This means that if there is something on the property, such as a pool, that is attractive to young children, the property owner must ensure children cannot access it.
Children are owed a higher duty of care, even if they are trespassing on the property. If there is an attractive nuisance on the property and the property owner did nothing to keep a child safe from it, the property owner can be found liable for any injuries the nuisance causes.
Hurt on Someone Else's Property? Contact Our Pennsylvania Slip and Fall Attorneys
If you've been injured in a slip and fall accident on someone else's property, you may be eligible for compensation. Our Scranton slip, trip and fall attorneys want to help you get it. At Haggerty, Hinton & Cosgrove, LLP, we are passionate about holding property owners responsible for unsafe conditions, and helping accident victims get the compensation they are entitled to. Call us today at 570-344-9845 to learn more about how we can assist with your case.
Resource:
pennrecord.com/stories/512573919-slip-and-fall-case-against-target-seeking-1-2-million-remanded-back-to-state-court
https://www.haggertylaw.net/understanding-laws-regarding-slip-and-falls-in-pennsylvania/