SSDI vs. SSI: What's the Difference?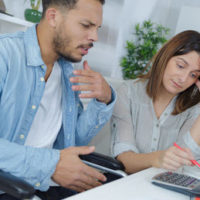 Those that are unable to work still need to cover the costs of day-to-day living. To do this, they often hear terms such as "SSDI" and "SSI". These are possible options that can help disabled individuals with their expenses. What are these terms, though? What do they mean, and how are they different? Most importantly for those currently out of work, which one is the best option for them?
Social Security Disability Insurance
Nearly every worker in the United States pays into the Social Security fund. It's a deduction that comes off of every paycheck, along with the deduction for income tax. The Social Security fund is meant to provide for those that have retired from the work force and don't have an income. Upon retirement, workers are eligible to get small Social Security Disability Insurance (SSDI) payments back every month if they have contributed to the fund throughout their working years.
Retirement is not the only time these funds are available, though. If someone becomes physically ill or injured, leaving them unable to work, they may still receive SSDI. When this occurs, SSDI works similarly to insurance benefits and not a retirement fund.
There is a stipulation to receiving SSDI. Only workers that have made significant contributions through their own paychecks for at least five of the most recent ten years are eligible to receive SSDI. If a person becomes sick or injured before turning 31, the rule is modified based on the person's age and the amount they contributed to the fund.
Supplemental Security Income
Supplemental Security Income, or SSI, is very different than SSDI. It has no work requirement, but is meant to help individuals that are disabled and have little income. To receive SSI, a person does not have to have a long work history, or any work history at all. SSI is also different from SSDI because it is similar to social welfare programs around Pennsylvania, whereas SSDI is funded by taxpayers.
The eligibility requirements for SSI are much stricter than those for SSDI. In order to receive SSI a person must have a disability that prevents them from working, and have no real source of income. Even a person's assets are considered when they apply, although they are typically allowed a house and one vehicle. Any other assets totaling more than $2,000 will typically prevent a person from receiving SSI. Children under the age of 18 can also receive SSI, but their parents also have to meet the income and asset requirements.
Contact the SSDI Lawyer in Scranton that Can Help With Your Case
SSDI and SSI have many differences but they have one important similarity, as well. They both have a disability requirement, and these requirements are sometimes challenging to prove. Anyone wishing to apply for SSDI should speak with a Pennsylvania Social Security Disability lawyer for assistance.
If you are disabled and currently don't have an income, contact Haggerty, Hinton, & Cosgrove, LLP at 570-344-9845. We'll help with your application so you have the best chance of receiving the insurance benefits you need. These applications are often denied, so don't go it alone. Call us today and we'll begin reviewing your case.
https://www.haggertylaw.net/mistakes-to-avoid-when-applying-for-social-security-disability-benefits/