Living Wills, Advanced Directives, and Why They're Important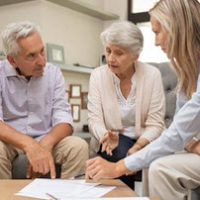 When most people think of estate planning, they often think the only thing they need to do is create a will. This is a very important step of estate planning, as it allows someone to retain control over their assets, child custody, and other important factors upon their death. However, wills are not the only component of a comprehensive estate plan. Living wills and advanced directives are equally important.
Living Wills and Health Care Power of Attorney
There are times in life when a person is no longer able to make decisions about their own medical care. This is often the case when a person is at an advanced age, after contracting a serious illness, or after an accident. When this happens and a person has not taken certain steps, their family members, doctors, or even a judge will make those decisions for them.
This is not ideal, as these individuals may not understand what a person wants in regards to their own medical care. For this reason, everyone should include a living will as part of their estate plan. A living will outlines the medical treatment a person would or would not like to receive in certain medical situations. For example, if a person is in a coma for an extended period of time, a living will can indicate whether or not they would like to remain on life support.
Living wills often contain the name of a durable health care power of attorney, also known as an agent. This is the person that will make healthcare decisions for those that are unable to do so. Together the living will and the durable health care power of attorney are known as an advance directive.
Why Have an Advance Directive and a Will?
Many people mistakenly believe that they don't need an advance directive if they have already taken the time to complete a will. However, it's important to understand that wills are only read after a person's death. If there is information contained within it about their end of life decisions, or who they'd like to make medical decisions for them, these are inapplicable due to the fact that the person has already passed.
The terms power of attorney and executor of a will also often become confused. While an executor will ensure the wishes in a will are carried out, the power of attorney expires once a person passes. Due to the fact that individuals only need a power of attorney while they are still living, any power of attorney named in a will is irrelevant.
Let an Estate Planning Attorney in Pennsylvania Help With Your Living Will
While the government of Pennsylvania offers many do-it-yourself forms for living wills and advance directives, it's most recommended anyone wishing to create these documents gets the help of an experienced Scranton estate planning lawyer. There are still many laws regarding these forms, and an attorney can ensure they are enforceable should the time ever come.
If you want to take control of your future by simply planning for it, contact Haggerty, Hinton & Cosgrove, LLP, at 570-344-9845 today. We will help you create a full estate plan so you can have reassurance you are properly planning for your future, as well as that of your loved ones. Call us today to learn more about how we can help you.
Resources:
legis.state.pa.us/cfdocs/legis/LI/consCheck.cfm?txtType=HTM&ttl=20&div=0&chpt=54
legis.state.pa.us/cfdocs/legis/LI/consCheck.cfm?txtType=HTM&ttl=20&div=0&chpt=25