How to Protect Digital Assets in Your Estate Plan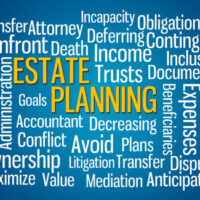 When most people think of creating an estate plan, they may automatically think of including instructions for how their physical property is divided after they pass away. This property typically includes real estate, vehicles, and bank accounts. However, there is another type of asset that is becoming more and more prevalent today, and those are digital assets.
Digital assets are intangible, and often need a password to access. These factors make them much more difficult to divide, distribute, and manage after a person has passed away or has become incapacitated. Below are a few factors pertaining to digital assets that anyone creating an estate plan should consider.
What are Digital Assets?
Digital assets are property a person owns in digital format. They can include anything from an iTunes account to social media profiles to cryptocurrency. These assets are not stored physically, such as in a storage locker, but rather they are stored digitally, usually on a server somewhere.
Many states have adopted the Uniform Fiduciary Access to Digital Assets Act, which allows an executor, power of attorney, or trustee to access these assets. Unfortunately, Pennsylvania has rejected the Act, making it more difficult for individuals to maintain control of their assets upon their passing. Instead, the rejection of this Act gives more control to the companies that store the assets to determine how they are accessed, who can access them, and if the account is simply deleted after a person passes away.
Due to this, it is important that anyone creating an estate plan also includes specific provisions for their digital assets when they pass.
Steps to Take to Protect Digital Assets
One of the most challenging aspects of digital assets is that typically, no one can access them except the owner. These assets are protected by passwords, making it very difficult for a fiduciary to manage them.
To avoid this, it is important to take a complete inventory of these assets, including online accounts such as social media profiles, along with their respective passwords. Of course, these passwords should be kept in a safe place so that no one else can access them except for the owner and the fiduciary.
Wills become public documents after a person's death, so this is not the place for confidential information such as passwords. A computer or the same location the will is stored is the best place for this inventory, as long as the fiduciary can easily access it.
Along with the inventory, it is just as important to include clear directions detailing who can access the digital assets, and who should receive them. If certain accounts should be deleted after a person's passing, such as a Facebook account, this information should also be included, as Facebook will allow individuals to keep a person's profile active in memory of them.
It is unknown whether Pennsylvania will ever adopt the Uniform Fiduciary Access to Digital Assets Act. Taking these steps will ensure digital property is kept just as safe as physical assets until Pennsylvania enacts some type of legislation to protect everyone in the state.
Our Pennsylvania Estate Planning Attorneys can Protect All of Your Assets
There have always been some complexities associated with estate planning. With so many people having so many digital assets today though, it is even more challenging. When you need to ensure that your estate plan is complete and that you have accounted for all of your assets, our Scranton estate planning, probate & trust administration lawyers at Haggerty, Hinton & Cosgrove, LLP, can help. Call us today at 570-344-9845 to schedule a meeting with one of our attorneys and to ensure that your estate plan includes all of your important assets.
Resource:
uniformlaws.org/committees/community-home?CommunityKey=f7237fc4-74c2-4728-81c6-b39a91ecdf22
https://www.haggertylaw.net/how-to-talk-to-your-family-about-your-will/