Frightening Facts About Johnson & Johnson Every Consumer Should Know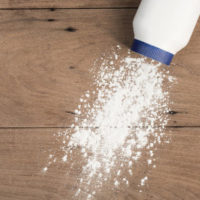 For years Johnson & Johnson has faced allegations and lawsuits that some of their products cause cancer. The company has always denied such accusations, but in February they disclosed that federal regulators had questions about the baby products sold by the manufacturing giant.
The problem for Johnson & Johnson is a big one. It's also raising concerns among consumers that believe certain baby powders and another product, Shower to Shower, contain asbestos, a known human carcinogen. Carcinogens cause cancer in the body, and several consumers are now alleging these products have caused them to suffer from ovarian cancer.
So, what do consumers need to know?
The Danger of Talc Powder
While Johnson & Johnson has always denied its talc-based baby powders contain asbestos, a recent hearing before the House Subcommittee on Economic and Consumer Policy showed otherwise. During this hearing, a doctor testified stating that talcum powder could trigger an inflammatory response in anyone that uses it. It's this reaction that can cause cancer cells to develop and grow in the body.
The doctor was well-versed in the area of talcum powder and its effects. She had analyzed 38 studies that spanned four decades. She also found that women that used talcum powder in their genital areas had an increased chance of developing ovarian cancer. In fact, they were 22 to 31 percent more likely to contract the cancer at some point in their lives.
The Symptoms of Ovarian Cancer
It's important that anyone that has used Johnson & Johnson baby powder understands the signs and symptoms of ovarian cancer. If these symptoms present themselves and are caught early, women will have a better chance of treating it early, and possibly saving their life. The symptoms include:
Bloating or swelling in the abdominal area
Feeling full soon after eating even a small portion of food
Discomfort and pain in the pelvic area
Changes in bowel movements
Needing to urinate frequently
When these symptoms are present, or a woman has been diagnosed with ovarian cancer, Johnson & Johnson can be held liable for causing it.
Holding Johnson & Johnson Liable
Johnson & Johnson has consistently maintained not only that it knew nothing about asbestos in the product, but they were certain the product did not contain asbestos. However, recently it has been proven that they did in fact know, and that they have known for years.
An investigation conducted by Reuters in December of 2018 unveiled internal documents from the company that showed they were aware of the asbestos problem for decades, from 1971 to the early 2000s. These documents have also been introduced in several of the lawsuits filed against Johnson & Johnson.
All companies are responsible for ensuring their products are safe for consumers to use. When they are not, particularly when the manufacturer about the danger and did nothing about it, as it seems in this case, consumers can hold them liable for any injuries. Ovarian cancer is certainly an injury, and one that can take a person's life. Lawsuits have also been filed by those that have lost loved ones after using the talcum baby powder.
Have You Gotten Sick by Johnson & Johnson Baby Powder? Contact the Scranton Personal Injury Lawyers that Can Help
Anyone that suspects they or a loved one contracted ovarian cancer due to Johnson & Johnson's baby products have legal options. To explore what these options are, they should call an experienced Scranton defective product lawyer.
If you think you have a case against Johnson & Johnson, contact Haggerty, Hinton & Cosgrove, LLP at 570-344-9845. We will hold them liable for any injuries they have caused you, and help you claim compensation that can help cover the costs of the treatment you need. Don't wait another minute. Call us today and let us help with your case.
Resources:
mayoclinic.org/diseases-conditions/ovarian-cancer/symptoms-causes/syc-20375941
businessinsider.com/does-baby-powder-cause-cancer-johnson-and-johnson-lawsuit-2018-7
https://www.haggertylaw.net/fda-finds-link-between-breast-implants-and-cancer/