Are Handwritten Wills Legal in Pennsylvania?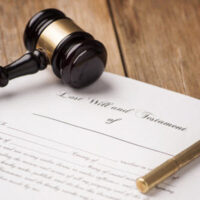 A will is an important tool that can assist in planning your estate and administering it after your death. Many people know this and still, they don't have a will. These individuals often wonder if a handwritten will is considered legal in Pennsylvania. They may want to handwrite a will because they don't think they can afford an attorney, or because they have become suddenly ill and want to prepare for the future. Whatever the reason is, it's important to know that in many cases, a handwritten will in Pennsylvania will be considered legal and valid.
When Handwritten Wills are Valid
According to the Pennsylvania code, all wills within the state must be in writing. However, there is no mention that a will must be typed, meaning that a handwritten will may be accepted by the probate courts. Pennsylvania law also states that wills must be signed by the testator, or the person the will pertains to. If the testator handwrites anything after their signature, it will not affect what comes before it in the will.
Although the law doesn't state that wills must be typed, probate courts will question the validity of a handwritten far more than a typed will. To ensure a handwritten will is valid, testators should have the will signed by two impartial witnesses. It's not a requirement in the state that witnesses sign a will, but doing so with a handwritten will can help ensure it is deemed valid by the courts.
When Handwritten Wills are Deemed Invalid
It is largely up to the probate courts whether or not they will deem a handwritten will valid. There are a few reasons they may not, including if there weren't any witness signatures, or if those signatures were not impartial parties, such as someone named in the will.
When the courts do not accept a handwritten will, the laws of intestacy will apply. These laws dictate how a person's estate is distributed if they passed away without a will. The laws of intestacy in Pennsylvania attempt to distribute the property in the same manner the deceased would have if they had a will. This typically means that the decedent's closest family members, such as their spouse and children, would receive the majority of the decedent's property.
Intestacy laws do not consider the special needs of any family members. Therefore, when individuals have certain family members they want to protect and continue caring for, they should create a will that indicates those wishes.
Additionally, when a person dies without a will and has no spouse or children, their property is distributed among other family members. This means that estranged relatives could end up receiving some of that property. This is another important reason everyone should have a will.
Need Help with Your Will? Call Our Pennsylvania Estate Planning Attorneys
If you don't yet have a will, it's important you create one as soon as possible. Without a will, the state may determine who receives your property after your death, and their decisions may not reflect your wishes. If you need help drafting your will, call our Scranton estate planning, probate & trust administration attorneys at Haggerty, Hinton, and Cosgrove. We'll take care of all the details to ensure your will is deemed valid and your wishes are upheld. Call us at 570-344-9845 today and start planning for tomorrow.
Resource:
legis.state.pa.us/cfdocs/legis/LI/consCheck.cfm?txtType=HTM&ttl=20&div=0&chpt=25
https://www.haggertylaw.net/naming-an-executor-know-the-restrictions-in-pennsylvania/